In the above video, Managing Director of 2iB Partners, Mr. Yang Yen Thaw delivers a 50 minute speech on Legal issues in cross-border Mergers & Acquisitions (M&A) and a new approach to M&A.
2iB Partners formed part of a repertoire of experts hailing from MNCs, mainstream banks, advisory firms and funds with substantial AUM.
Speaker line-up included:
| | | |
| --- | --- | --- |
| Sanjay Mathur | Chief Economist – Southeast Asia and India | ANZ Bank |
| Sikh Shamsul Ibrahim | Investment Director | Malaysian Investment Development Authority (MIDA) |
| Greg Ohan | Director | Jones Lang Laselle, Vietnam |
| Hector Wang | Investment Director | China-ASEAN Investment Cooperation Fund |
| Edwin Vanderbruggen | Senior Partner | VDB Loi Co.,Ltd |
| Jonathan Fein | Vice President | BDA Partners |
| Ryoichi Nishizawa | Head of M&A Advisory | Mitsubishi Corporation |
| Yang Yen Thaw | Managing Director | 2iB Partners |
| Kevin Murphy | Managing Director | Andaman Capital Partners |
Panelists include:
| | | |
| --- | --- | --- |
| Kate Holgate | Partner and Head | Brunswick Singapore |
| Aaron Howell | Managing Director | Rothschild |
| Robert Rosen | Co-CEO | Kenon Holdings |
| Kala Anandarajah PBM | Head Competition & Anti-trust and Trade | Rajah & Tann |
| Dag Ove Solsvik | Head of Group Legal, Middle East and APAC | DNV.GL |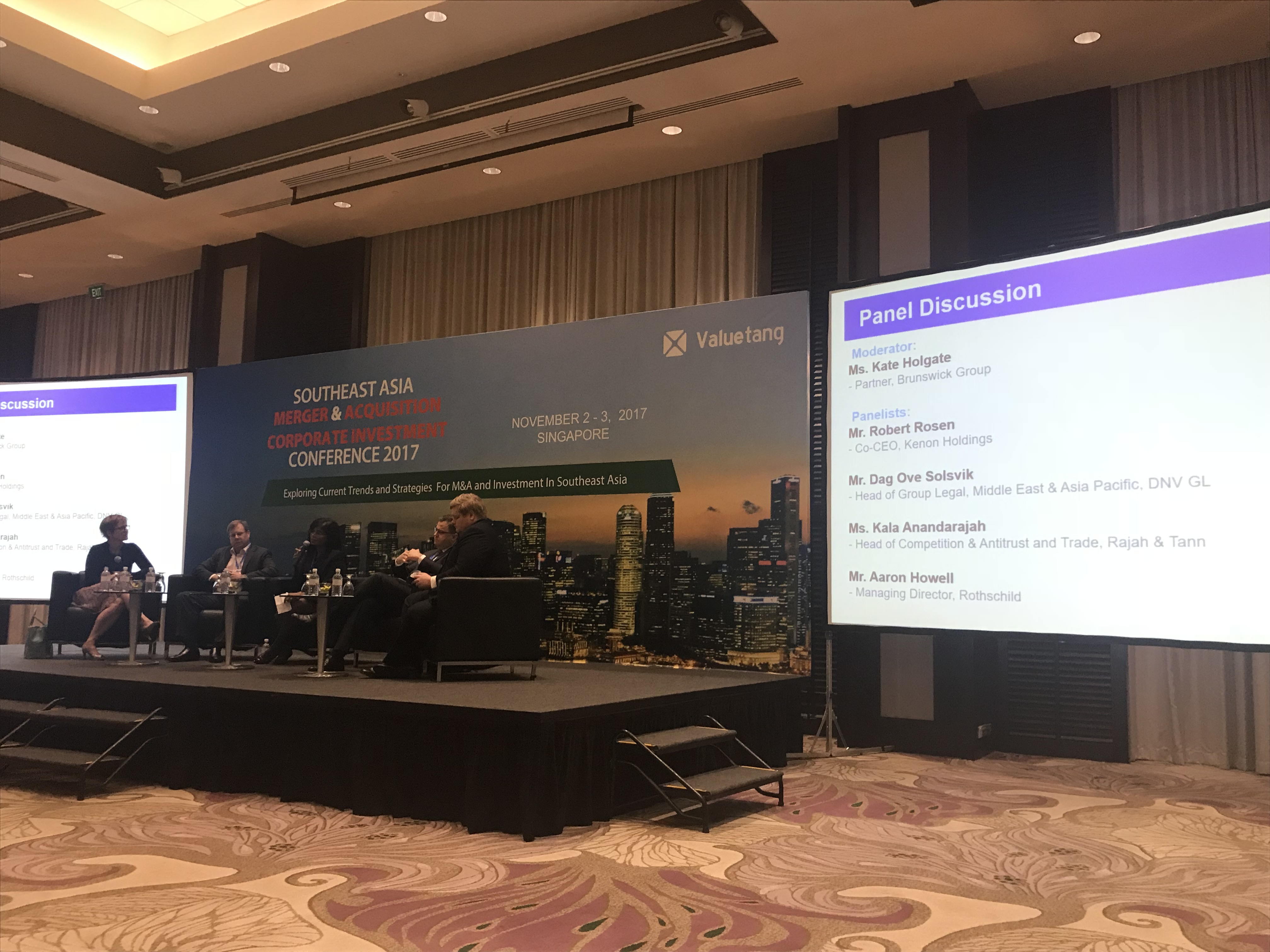 The room was filled with more than a hundred people representing big listed companies, billion dollar funds and conglomerates from all sectors taking a strategic interest in the Southeast Asian region.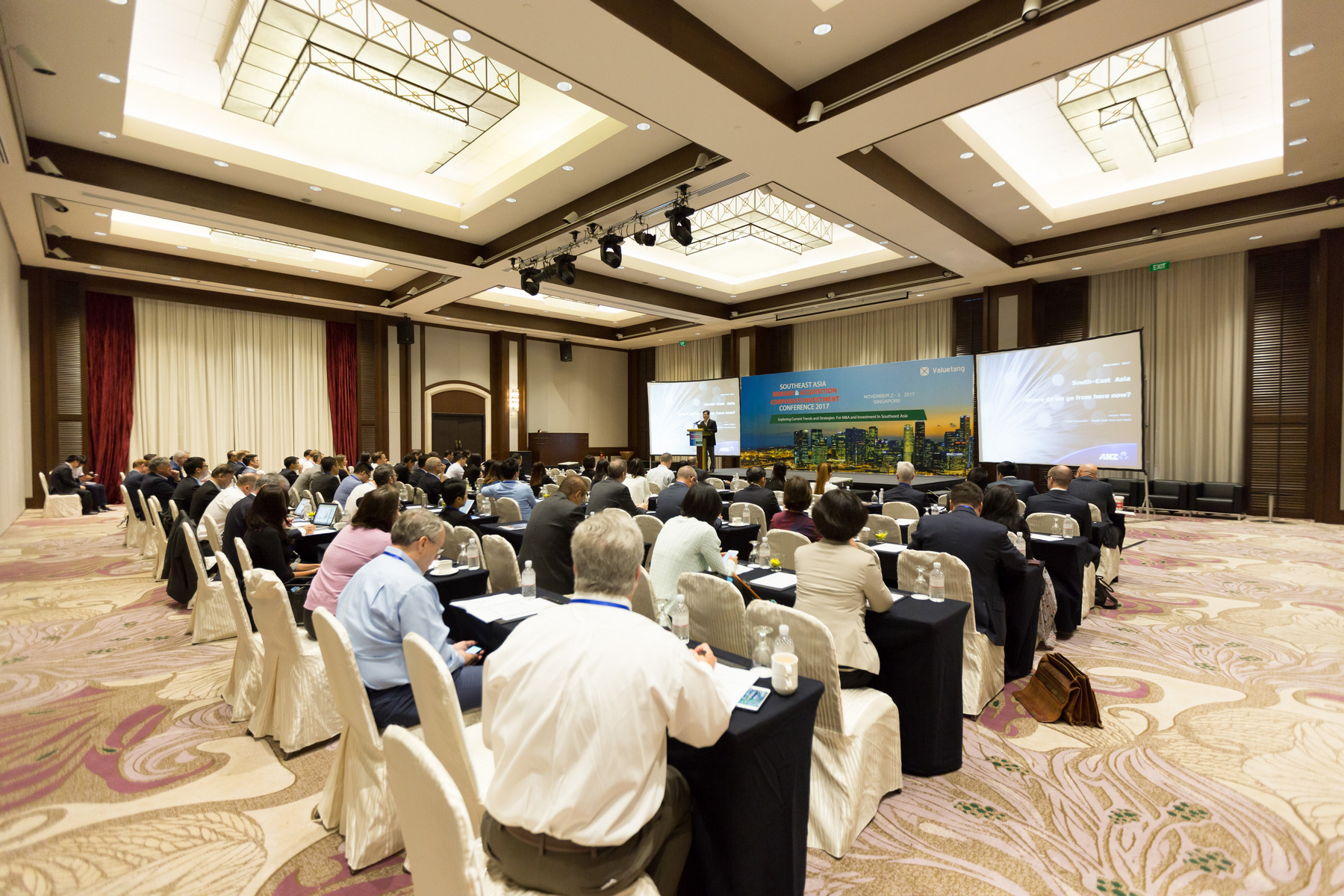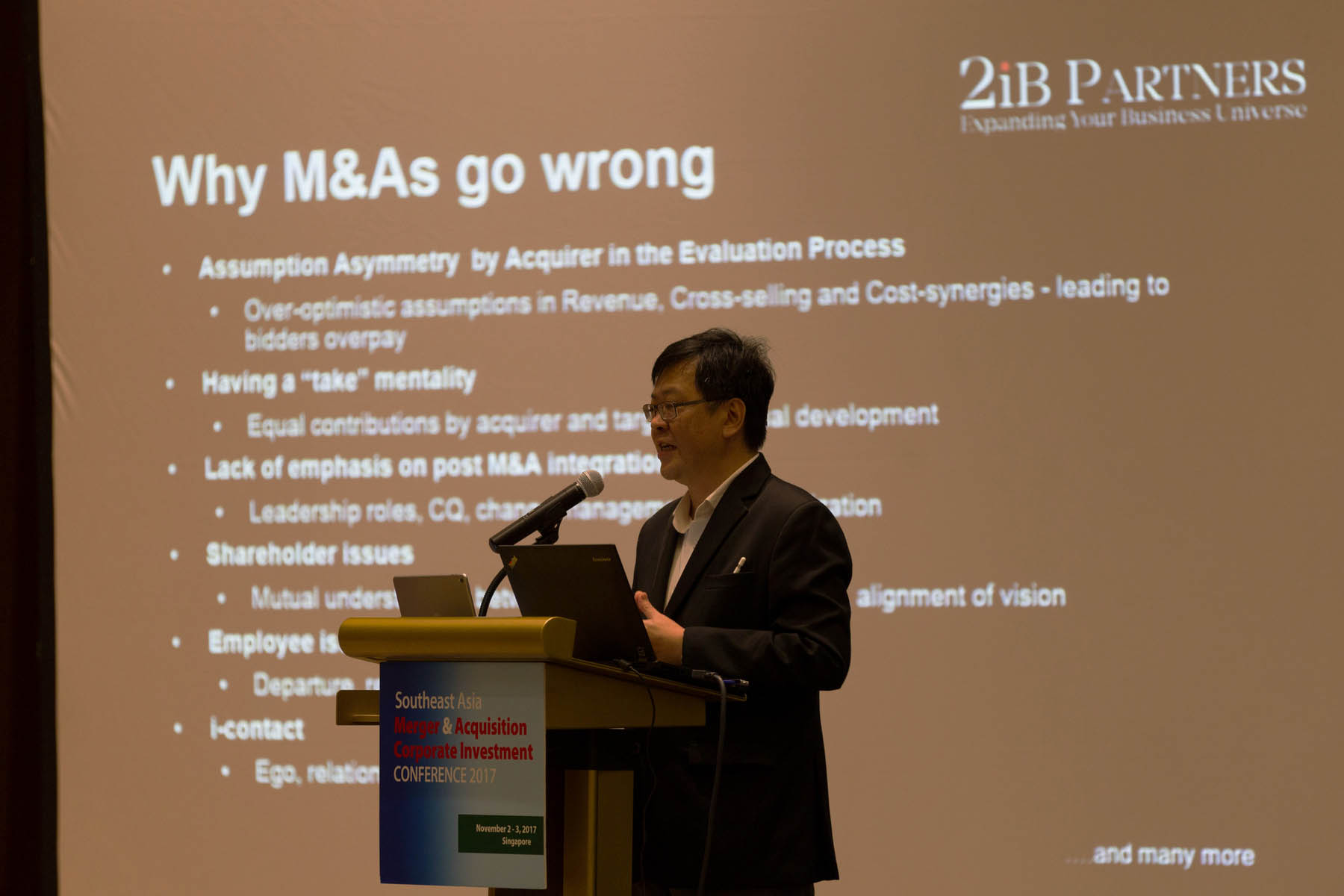 Mr. Yang Yen Thaw addressing "Why M&As go Wrong".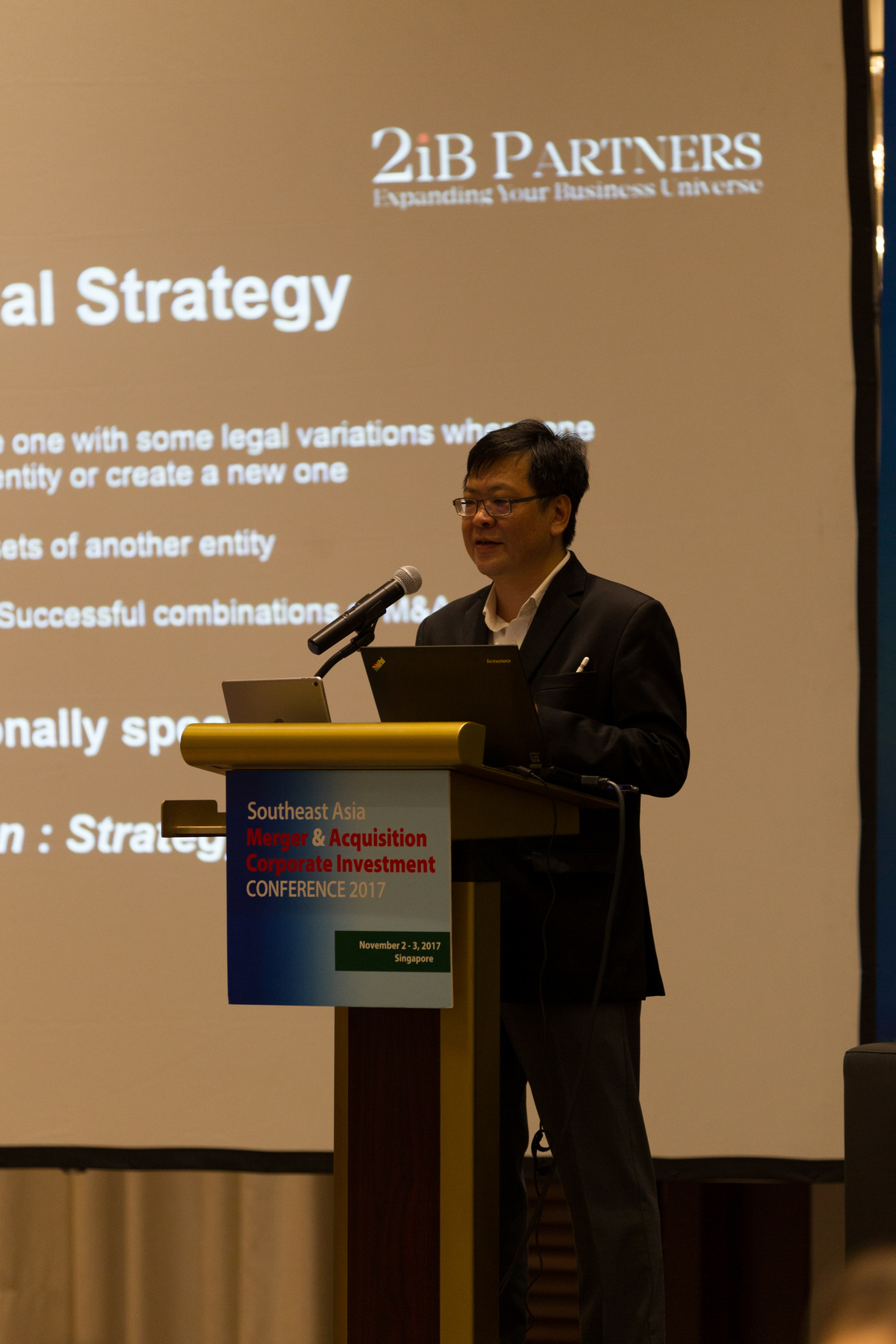 Legal strategy in M&A
Mr. Yang Yen Thaw engaging the audience in an open floor discussion. CoAggregation® in action!
Message from the Director:
2iB Partners continues to build its reputation and broaden international networks with MNCs, strategic buyers, listed companies, funds and networks in US, UK, China, India, Phillipines, who have taken a strategic interest in the Southeast Asian market. We also understand that there are a significant number of small and medium enterprises (SMEs) in the region that are looking to scale up and regionalize in SEA or gain market access into China.
With regards to these 2 different channels of companies, we have the appropriate networks and expertise to assist them with their expansion plans whether through joint ventures, inorganic growth or general business consultancy. We see ourselves in a strategic position to assist these stakeholders in their internationalization and growth plans in or out of the region through Singapore.
From a macroeconomic perspective, the ASEAN story is generally positive and is one of the fastest growing regions with projected 4.9% GDP growth this year compared to projected global growth of 3.5%. Fast growing Myanmar is also projected for a growth of 7.5% next year, though for this country, regulations may slow the advancement of certain sectors. The ASEAN growth is projected to outperform that of global growth rate for the foreseeable future with relative political stability and increased connectivity in terms of both investment and trade.
Global trade has also re-emerged and as a result, Asia, that is the most export dependent has benefited substantially. Indicators suggest that domestic demand is also improving post slow down but it would take awhile before this reaches a steady state. This could suggest investment opportunities in the medium to long term.
Inflation is behaving and the region as a whole is not sitting on any large imbalances. Therefore, with regards to concerns on fed hikes, as long as they are well introduced and earnings growth is faster than the rise in cost of capital, we should sift through the shifts in global monetary conditions.
The ASEAN Economic Community (AEC) blueprint which aims for tax collaboration by 2025 and reduction in trade transaction cost by 2020 also point to significant improvements in opportunities.
-Data from FocusEconomics and World Economic Outlook.
Last but not least, we would like to express our thanks to Mr. Tony Huang and ValueTang LLC and look forward to greater and deeper collaboration in time to come.
Dylan Tan
2iB Partners – Director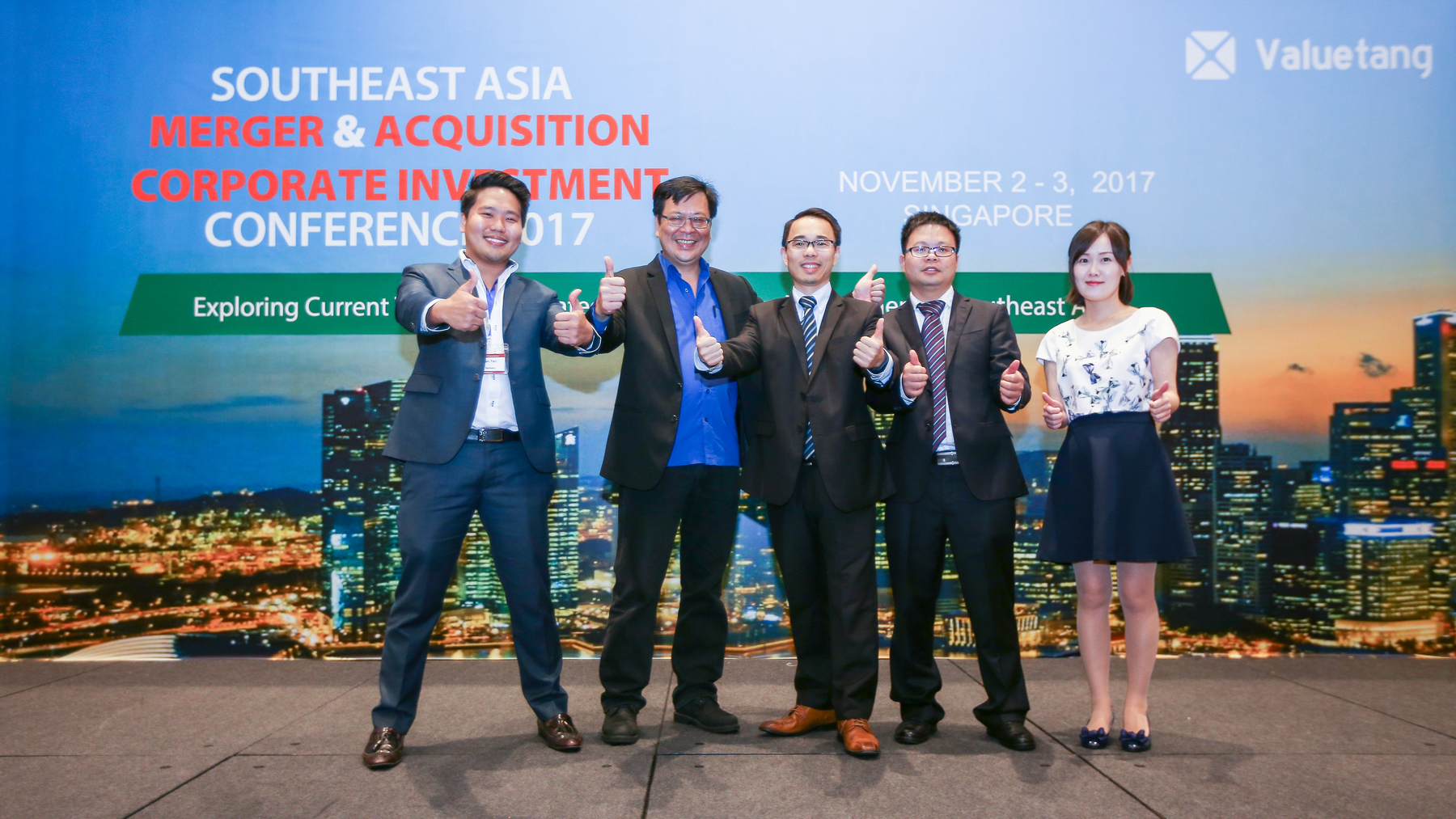 For partnerships, speaker and general business enquiries with 2iB Partners:
| | |
| --- | --- |
| Contact Person | Dylan Tan |
| Designation | COO |
| Email | Dylan@2ibpartners.com |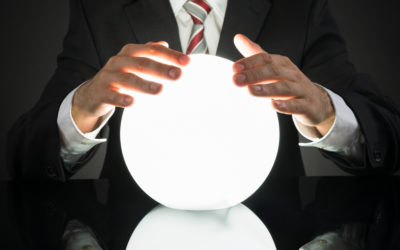 The future is now. Well, in some cases, the future is past. The sci-fi movie Blade Runner, made in 1982 and 2017, set the future in 2019. It got some things right (or at least headed that way in terms of flying cars and "android" helpers) and some things wrong (like...
read more